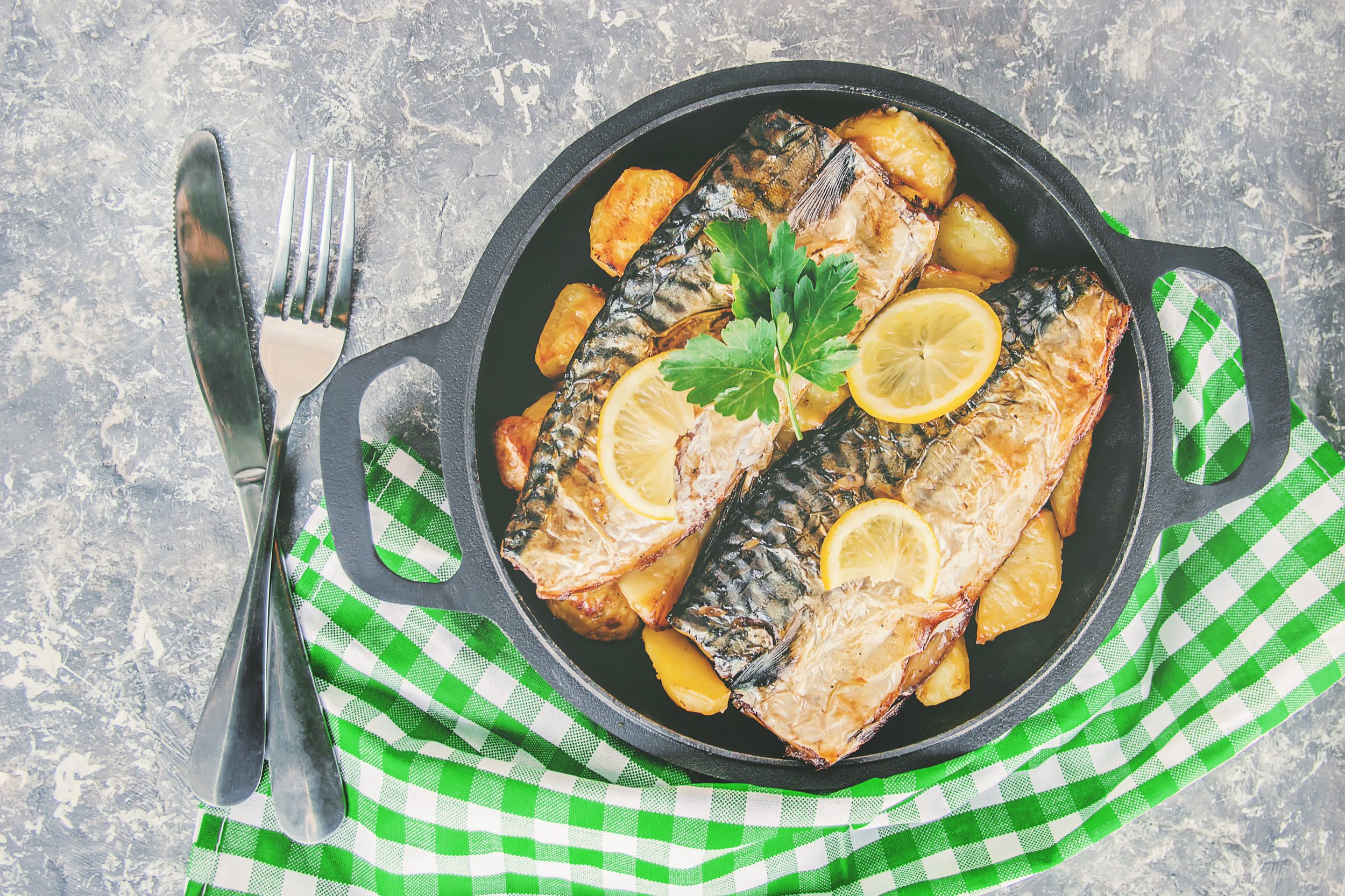 Roast mackerel with herby potatoes and courgettes
A quick and easy traybake - full of omega 3 in the delicious mackerel, with a fresh herby marinade adding bags of flavour to the potatoes and courgette.
Simple to double or triple to feed more people.
Difficulty level: Intermediate
Serves: 2 people
Prep time: 5 minutes
Cooking time: 20 minutes
Nutrition
Typical values per serving:
Energy 1100kJ, 264kcals | Fats 15g | Saturated fats 3.2g | Carbohydrates 12g | Sugars 1.9g | Protein 17g | Salt 0.29g | Fibre 3.1g
Ingredients
10 medium-sized new potatoes - skin-on, halved
1 large courgette - ribboned using a vegetable peeler
2 mackerel fillets (around 200g) - skin-on
1 lemon - cut into wedges for serving
For the herb marinade
—
3 tbsp olive oil
3 cloves garlic - minced
2 tsp dried parsley
2 tsp dried rosemary
1 large pinch salt
2 tsp black pepper
1 tbsp rapeseed oil
Method
Preheat oven to 180ºC and line a deep oven tray with baking paper.

Prepare the herb marinade by mixing together the olive oil, garlic, herbs, salt and pepper in a large bowl using a fork.

Add the halved potatoes to the marinade and toss to coat the potatoes. Once the oven is hot enough, lay the potatoes on the oven tray in one layer, leaving behind some of the marinade in the bowl. Bake the potatoes for 10 minutes - they should still be firm and only cooked halfway through by this point.

While the potatoes are in the oven, add the courgette ribbons to the remaining marinade and stir to make sure all everything is evenly coated.

After 10 minutes, remove the tray from the oven. Place the courgettes around the potatoes and the mackerel fillets (skin side up) among the vegetables. Drizzle the remaining marinade over the fish. Return to the oven and roast for a further 10-15 minutes (or 15-20 minutes if using frozen fillets). The potatoes should be tender and the fish should flake apart very easily.

Serve with lemon wedges.